Community Theatre in the Heart of Toronto's Annex.
Web Series Episode 2 is out!
View the full Episode 2 here:  
Watch Episode 2
Previously…
Watch Episode 1
"This is Community Theatre" is a behind-the-scenes mockumentary that captures the chaotic and engaging world of community theatre in Toronto, Ontario. Watch our NEW web series about our upcoming Fall production!
Coming soon!
The Ashes of Forgotten Rain, by Norman Hussey; and This is a Play by Daniel MacIvor. Showing at the Tranzac Stage November 2, 3, 4 and 9, 10, 11, 2017 at 7:30 pm. For tickets, visit our Tickets page.
Also AUDITIONS for our 2018 Pantomime (Beauty and the Beast by Ben Crocker, adapted by Ginty Burns & Lina Minniti) take place on October 22 and 23. See visit our Auditions page for details.
NAGs news
Rehearsals are moving along nicely for our fall show, and tickets are starting to sell, so get yours soon to avoid disappointment!. We even have subscriptions available for our season: $45 per person for a ticket to all three of our shows. If you'd like to purchase a subscription, please email the box office.
We're still looking for a volunteer webmaster who can keep our site updated using WordPress, so if you happen to have that skill and some time to spare… please contact us!
2017-2018 season
November 2-3-4 and 9-10-11 2017: The Ashes of Forgotten Rain by Norman Hussey and This Is A Play by Daniel MacIvor. Director: Norman Hussey.
January 25-26-27 and February 1-2-3 2018: Beauty and the Beast (pantomime) by Ben Crocker, adapted by Ginty Burns and Lina Minniti. Director: Ginty Burns.
Spring show and dates:  To be announced
NAGs memberships
For only $15 a year, you get discounts on show tickets, invitations to script reading nights and social events, opportunities to steer our path at the AGM, AND the chance to hang out with a bunch of fun people. Use the link below to become a NAG or renew your membership.
Become a NAG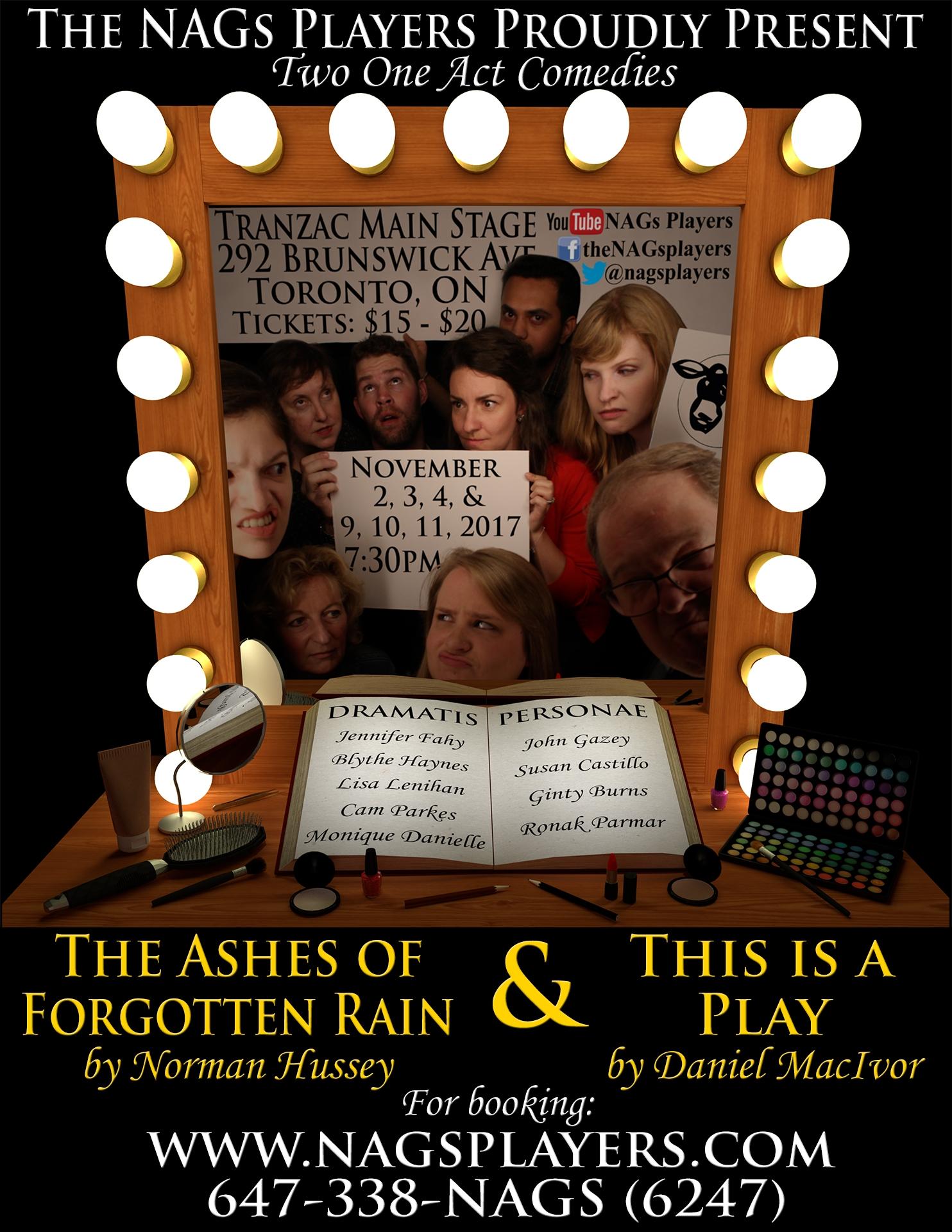 Social media
Facebook
Twitter
Instagram
Social media
Facebook
Twitter
Instagram